Chocolate | Banana | Hazelnut | Peanut Butter Vegan Ice Cream
When the ice cream cravings hit on a hot summers day banana ice cream is the perfect solution. I'm sure most of you already know the basic concept of blending frozen bananas to make a healthy form of ice cream. However, I like to shake it up and make numerous flavours to keep my taste buds happy. This is one of my favourite versions as it tastes amazing and it makes for a perfectly balanced meal. The added protein powder, peanut butter and oats ensure all macronutrients are accounted for and stops you from feeling hungry an hour later. I also like to add coffee to mine for that little caffiene boost in the morming.
This was my first time using Get Yuve protein powder and it did not dissapoint. I have trialled many plant based protein powders in the past, most of which to be completely honest taste very earthy. However, Get Yuve has no hint of an earthy taste and the texture is great (another issue with most plant based protein powders.) I used the Vanilla Bean flavour in this recipe and it took me right back to my childhood as the flavour reminds me of a cross between the classic Angel Delight and Milkybar.
Get Yuve statistics
Vegan

Non GMO

Gluten Free

Soy Free

All natural ingredients- including a Healthy Digestion Blend, Metabolism & Energy Blend and Healthy Aging Blend

Ingredients
Method
Add your frozen bananas and milk into a blender. Pulse until a soft serve texture is made
Next, add your protein powder, peanut butter, cacoa powder and oats. Blend again until all ingredients are throughly combined.
Add the coffee and enough hot water into a mug to ensure all the coffee disolves
Add the coffee into the blender and blend again
Dish up your ice cream into a bowl and drizzle with Sweet Freedom Choc Shot and the peanut flour for that extra nutiness!
ENJOY!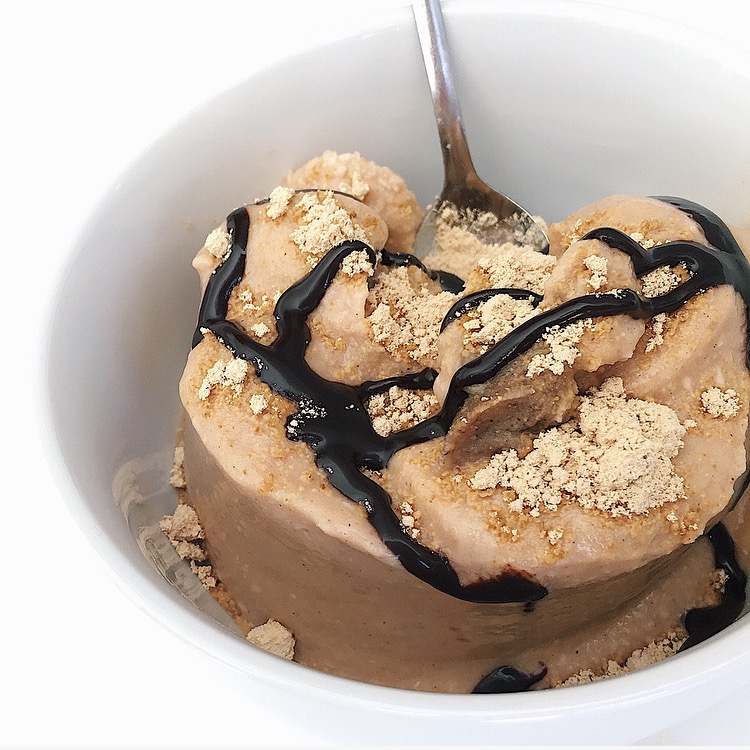 Cesca Daisy - Follow me here!